Bell Luna HOA, Cocoa Beach, Florida

Senior Sales Representative – Shelly Cejda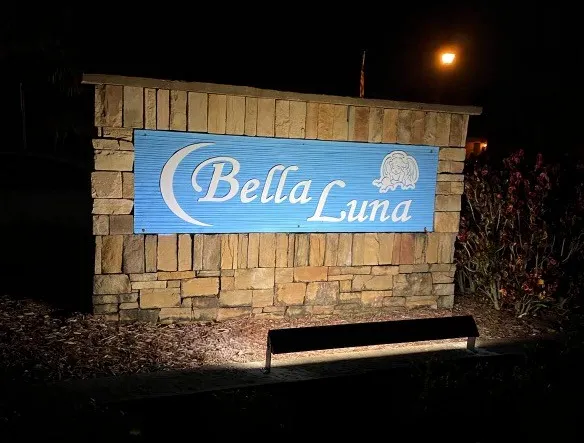 The Situation
Bella Luna consulted Shelly Cejda of Florida Bulb & Ballast, Inc., to solve their lighting conundrum; illumination of the entrance signs where no power existed.
‍‍
‍The Solution
Florida Bulb & ballast had a new item from Light Efficient Design/RemPhos, SOLAR DISPLAY LIGHT!  A perfect solution that Shelly presented to the Bella Luna HOA.
‍
‍The Product
Light Efficient Design/RemPhos's Solar Display Light, known in the industry as "Solera Solar Lighting - OFF-GRID", has a MOL of 46" X 5" length, making it perfect as a sign lighter. Using only 20W of LED light, comparable to 150W HID, these signs are perfect for signage, billboards, advertisements and so much more!  Over storage roll doors or work sheds would be another fantastic application!  This fixture will run for a solid 4 hours at 100% brightness and 2000 lumens before dropping to a 25% level for the remainder of the night with one charge.  Available in 4000K, a 3 year warranty, 8-9 hour charge time (replaceable battery after 1500 charge cycles/ 50 hours of life), and an amazing 120 degree angle, perfect for many applications.
‍
‍The Bottom Line and Green Effect
Thanks to Shelly's great idea, Bella Luna HOA will have years of illumination at the front of their development, enriching the entrance façade and landscaping and making the area both safe and welcome at the same time.  By NOT using electricity, Bella Luna HOA is serving Mother Earth in a very sustainable way.  Great job Shelly and Light Efficient Design!
More Projects